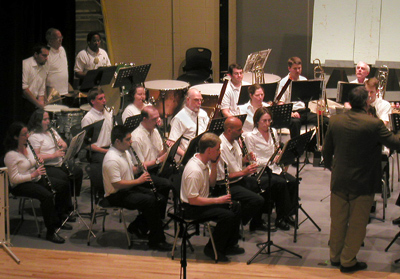 Our corporate underwriters and individual sponsors play an important role in our ability to bring free public performances of great concert band literature to the Austin Area.
ACWE is an 501(c)3 non-profit corporation so your donation is tax-deductible. In addition to knowing that you make ACWE's free performances possible, we will send you advance notice of upcoming performances. All donors will be recognized on our web site and other media unless you request anonymity.
If you are interested in becoming an underwriter or sponsor, please email us.
EVERY GIFT HELPS! ESPECIALLY YOURS!
Here is a sampling of what your gift can help make possible for the Austin Civic Wind Ensemble:
$25 Helps duplicate publicity posters and concert programs for ACWE performances
$50 Helps defray the cost of a rental van to transport equipment to performances
$100 Helps ACWE purchase new music
$300 Helps ACWE rent concert halls across Austin to perform free concerts
There are four categories of individual sponsors:
Prelude - $10 to $49
March - $50 to $99
Overture - $100-$499
Suite - $500+
There are three convenient ways to become a sponsor:
Attend one of our concerts and give your donation to an ACWE Board Member.
Write your check to "Austin Civic Wind Ensemble" and mail it to: Austin Civic Wind Ensemble PO Box 9893 Austin, TX 78766
Make your donation to ACWE by using PayPal.